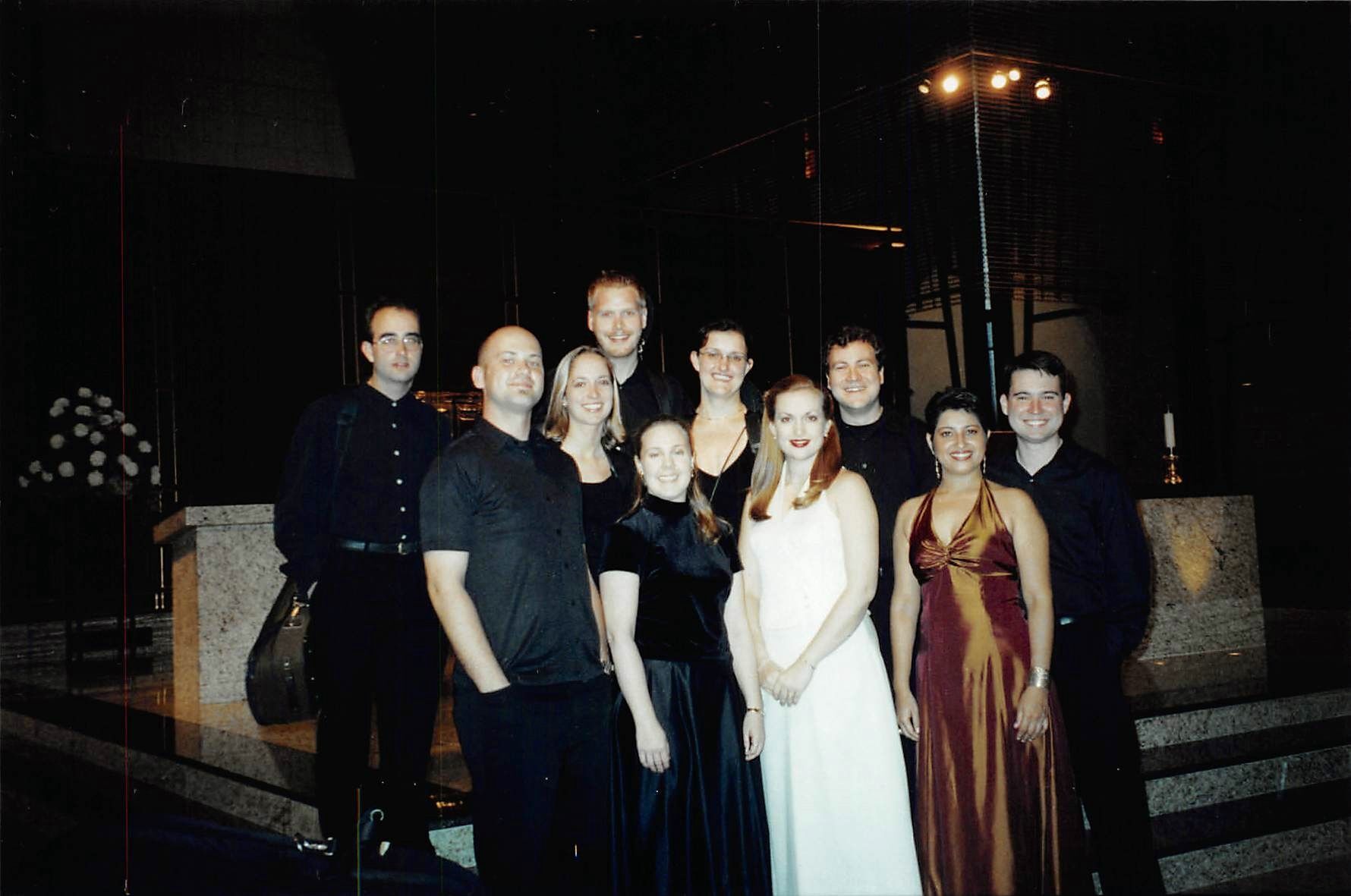 "Seraphic Fire is something that could have never happened or could have fizzled out, but instead, it endured and flourished in a historically unlikely place – Miami. The last two decades have been an amazing and special ride from a grassroots choir to a now highly touted ensemble with significant national prominence." James K. Bass, Associate Conductor
Turn the clock back 20 years to a Miami that was teeming with music. The Florida Philharmonic was playing 19th-century romantic music, the New World Symphony's repertoire featured music from the 19th and 20th centuries, and the Florida Grand Opera performed, well, opera. The vast missing gap was the genius compositions of the Baroque, Renaissance, and Medieval periods.
An incredibly gifted organist and music aficionado, Joanne Schulte, was partly responsible for securing a fresh, young musical talent to lead her church's music program. His name was Patrick Dupre Quigley. Together they shared a love of French Chamber Choir and enjoyed the music of a group called Les Arts Florissants, which was the seed for their dream: recreating that same type of ensemble for Miami. Quigley describes Schulte as the "oracle, guru, guide, and cheerleader" that pushed the vision to fruition. Sitting at the kitchen table, the two visionaries penciled out a plan to create a high-performing, a cappella ensemble that enthralled and educated audiences by singing historically significant works, many of which were underperformed. They called it Seraphic Fire. The name whisked from the opening of William Billing's Invocation, "Majestic God, our Muse inspire, and fill us with Seraphic fire."
One of those early singers shared a story about his audition that first year: While working on his doctoral degree in conducting, James K. Bass ran across a flyer that said something like: "if you're interested in singing, call this number." In his cargo shorts and baseball cap, he went to the audition prepared to sing the prescribed and very difficult Jephtha Oratorio excerpts. Not only was Quigley impressed, but he invited his new bass to stay for that night's rehearsal. "I knew right away that this [Seraphic Fire] was something special," said Bass. "Patrick had such an infectious energy. It was a very unique set of singers. After rehearsal every Tuesday night, we would go to the Sunset shops, have dinner and hang out together. There was a family feel right from the beginning that was remarkable."
After three or four years, this group of Seraphic Fire singers began to graduate and receive professional opportunities away from Miami. At that point, a choice had to be made: would Seraphic Fire be an ensemble that was made up of university students that faced a cycle of change and re-training with each graduation OR would the core group of the ensemble, those who have contributed greatly to its success, stay together?
The momentous decision was reached, creating a model which, at the time, was very revolutionary and adventurous. Seraphic Fire would contract singers to fly in, rehearse for three days, and then produce multiple performances at an array of venues. Singers that used to drive a couple of miles from campus and rehearse one night a week for six to eight weeks were now providing the same high-level performances in only a few days. This was only possible because the group was acutely attuned to each other and already so knowledgeable about the sounds that Quigley wanted from them. He had developed a "house sound" that is representative of every Seraphic Fire performance to this day.
The early patrons in Miami were often transplants from New York, Chicago, and Cleveland – places that had great traditions of music like Alice Tully Hall or Symphony Hall in Chicago. But the difference that Seraphic Fire provided was an intimacy with the music; small venues and the immediacy of having the art right in front of the listener.
James K. Bass recounted how those initial audiences grew in size. "There was our core group of followers, and they would invite friends and then those friends would invite their family and friends. They would listen in amazement and say 'I have never heard anything like that! Is it just your voices?' And I would always joke; 'I don't have a microphone in my pocket! It's just us.'"
That level of adulation contributed to the addition of venues and performances. Bass recounts conversations with patrons: "Can you come to my neighborhood in Ft. Lauderdale and then it was Miami Beach, and so on. We developed our own set of fans in every location we were asked to perform."
In addition to their regular season schedule, the ensemble has been a partner to unbelievably diverse music collaborations; touring with the American Brass Quintet, collaborating with the Jewish world music artist George Mordecai, and delivering arresting performances alongside New World Symphony and the Cleveland Orchestra. One of Seraphic Fire's very first collaborations was with the international Latin pop star Shakira; Seraphic Fire is featured on her 2005 album, Oral Fixation Vol 2.
There were many memorable moments during the season also. Seraphic Fire's October 2004 program featured their first performance of Handel's Messiah and included high-caliber soloists such as tenor Brian Hymel and mezzo-soprano Leah Wool. The performance occurred at the precise same time as the presidential debate between John Kerry and George W. Bush. Quigley shares his memory: "There were 1,000 attendees for our show who all rushed out to their car radios at intermission to hear the debate. Our hearts dropped, and we were somewhat in disbelief when every one of them returned for the second half. It was a night I won't forget."
Quigley has a deep passion for early music, but also knew Seraphic Fire was capable of performing brand-new music. With just a few years under their belt, Seraphic Fire took on the challenging The Road from Hiroshima by Shawn Crouch. Bass remembers his interactions with the other artists: "We all knew when we finished the performance that it was unique; it was not something many groups could do, and we just did it spectacularly. There's some point along the way where you say 'Wow, this could really be something,' and we already were something, we just didn't know it."
"We started from the smallest you can start from, just a volunteer organization, and we became not only real, but pertinent on the national stage. Great artists are excited to sing with us and celebrated conductors seek us out. We try to make our audiences proud of us and do better each year than we did before. This season, Seraphic Fire is performing a whole host of music we have never done before, to include world premieres and commissioned works. We will have 40 singers on our April program for Thomas Tallis' Spem in alium; a first for us. Our audience can expect a 'fireworks of music' in celebration of our 20th anniversary season. The unwavering support of our patrons over the past two decades has been the fuel for our many successes." Patrick Dupre Quigley, Co-Founder and Artistic Director