Seraphic Fire's Youth Initiative, in partnership with Miami-Dade County Public Schools, Broward County Public Schools, Collier County Public Schools, the University of Miami, and Florida International University, is a free music education program serving elementary, middle, and high school students in some of South Florida's most challenged communities. SFYI consists of three main parts: 
1. Choral Education Residency (CER)
CER is a weekly program at 2 elementary schools designed to be a high-impact, sustainable model for music education and teaching artistry. A graduate music education student partners with a school's music specialist to develop and teach elementary music curriculum on a weekly basis. The CER Teacher (CERT), a doctoral student in music education at the University of Miami (UM), and the schools' music specialists collaborate to plan weekly activities. The music specialists duplicate the instruction developed and present it to the remaining children in those grade levels.
 
2. In-School Workshops
A quartet of professional vocalists presents three 45-minute workshops throughout the year at eight partner schools in Miami-Dade County, two partner schools in Broward County, and two partner schools in Collier County. Students who participate in SFYI workshops learn music theory fundamentals, music history, ethnomusicology, and vocal technique by participating in interactive vocal exercises and workshop quizzes. After each workshop, teachers receive lesson plans and resources to further investigate the topics presented with their classes.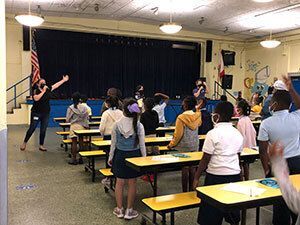 3. Education Concerts
Concerts, presented at the end of each academic semester, feature the Seraphic Fire professional ensemble performing a guided tour of a subscription concert. At these concerts, students from the CER have the opportunity to perform on their own and alongside Seraphic in front of an audience of their peers. 
Current Schools
Seraphic Fire currently works with Spanish Lakes Elementary, West Hialeah Gardens Elementary, Joella C. Good Elementary, Palm Springs Elementary, Bent Tree Elementary, Wesley Matthews Elementary, Royal Palm Elementary, Zora Neal Hurston Elementary, Stephen Foster Elementary, and North Andrews Gardens Elementary.
Contact
Seraphic Fire Youth Initiative
Suzanne Floyd
305.285.9060
Suzanne@SeraphicFire.org
2153 Coral Way, Ste. 401
Miami, FL 33145
Seraphic Fire education programs are endowed in perpetuity by The Clinton Family Fund Education Endowment with generous additional support from The Hutson-Wiley Echevarria Foundation.
The Choral Education Residency is funded in part by The Children's Trust. The Children's Trust is a dedicated source of revenue established by voter referendum to improve the lives of children and families in Miami-Dade County.