Seraphic Fire maintains relationships with several departments in the University of Miami to provide experiential learning to the next generation of artists and teachers.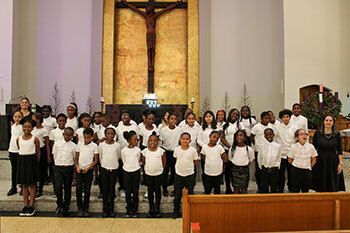 Choral Education Resident Teacher
Seraphic Fire's Choral Education Resident Teacher (CERT)  is chosen from a pool of highly qualified candidates in UM's graduate music education program. Alongside Seraphic Fire Director of Education the CERT serves as a liaison between Seraphic Fire's artistic leadership and Youth Initiative students through weekly in-school residencies at Spanish Lake Elementary in North Miami and Bent Tree Elementary in South Miami.
During this residency, the CERT leads student rehearsals in preparation for Youth Initiative performances with the ensemble.
Student Composer-in-Residence
The University of Miami Student Composer-in-Residence is selected to create a 5-minute work that Seraphic Fire will premiere during season subscription concerts. This student works closely with Seraphic Fire Associate Conductor James K. Bass throughout the season and regularly attends rehearsals and performances in preparation for the premiere. The residency includes composition workshops and routine guidance from Seraphic Fire artists and conductors.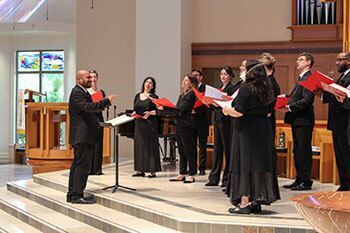 Assistant Conductor Fellowship
Seraphic Fire and the Frost School of Music Choral Studies Department offer a one-year Assistant Conductor Fellowship to a Frost School of Music choral conducting student. The program allows one graduate or DMA student per academic year the opportunity to work closely with Seraphic Fire Artistic Director Patrick Dupre Quigley and Associate Conductor James K. Bass, assist with score preparation, gain experience leading sectional and full ensemble rehearsals, and conduct the professional ensemble in select Seraphic Fire subscription concerts.
Ensemble Artist Program
Seraphic Fire's Ensemble Artist Program at University of Miami's Frost School of Music provides season-long vocal ensemble training to undergraduate and graduate voice students. Participating artists are chosen through competitive auditions chaired by Director of Choral Activities Amanda Quist. This collaboration aims to help emerging professional singers discover outlets for professional employment while fulfilling Seraphic Fire's educational mission to encourage the occupational advancement of musicians.
Participating students are invited to perform alongside the professional ensemble in subscription concerts across South Florida.