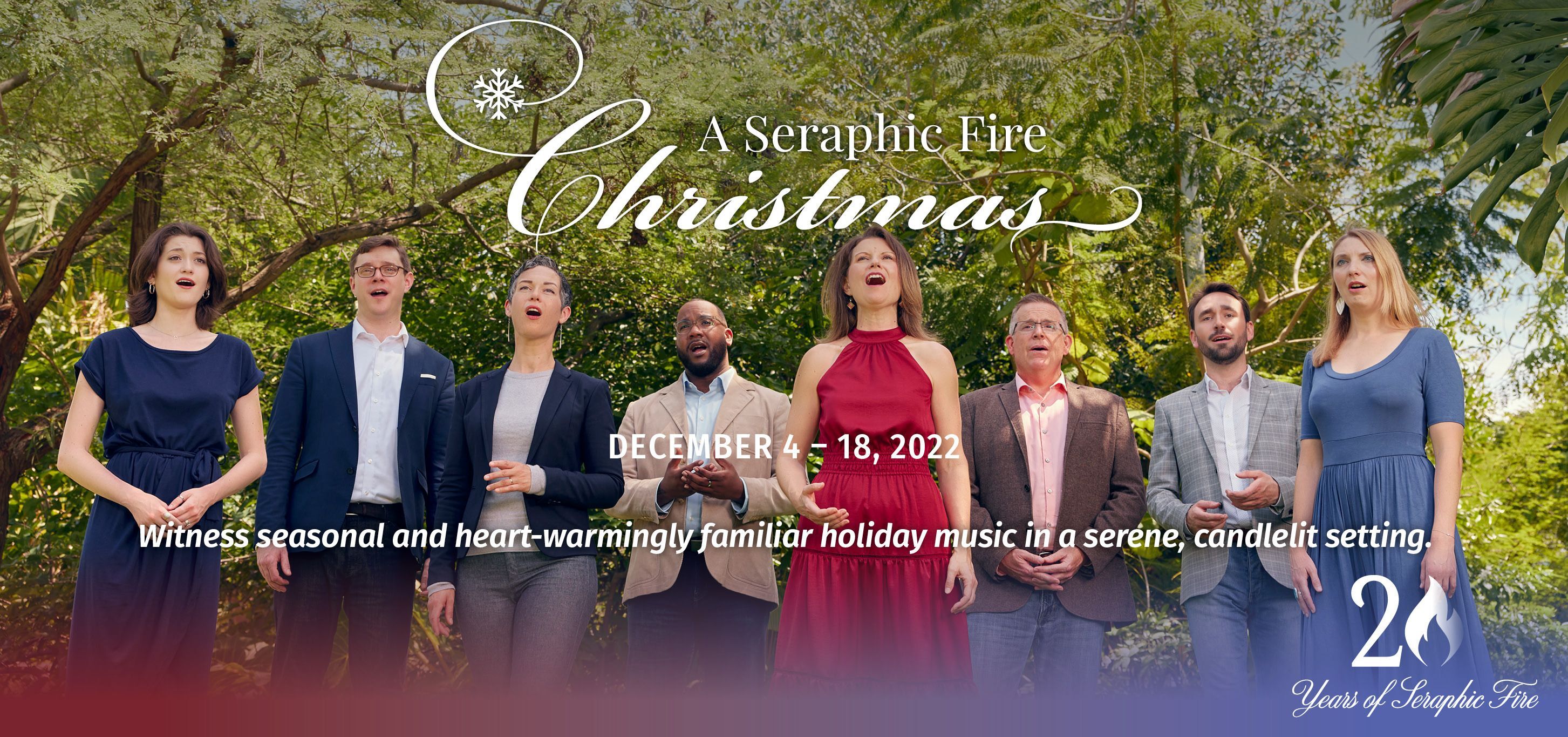 A Christmas Tradition: Seraphic Fire's A Capella Carols by Candlelight
A Seraphic Fire Christmas is a magical candlelit evening serenaded by the luscious tones of the best choral voices in the country singing a diverse and musically-enchanting selection of seasonal carols. Audiences will be captivated by familiar favorites such as the hauntingly simple Jesus Christ the Apple Tree and the enchanting Silent Night. This intimate musical experience features 19 carols and songs that span from 16th-century works to African American spirituals to In Dulci Jubilo, one of the oldest and most famous "macaronic" songs, a mixture of Latin and German.
Performances:
Sun, Dec 3, 7:00 pm | Naples | Vanderbilt Presbyterian 
Wed Dec 7, 7:00 pm | Sarasota | St. Boniface Episcopal 
Fri Dec 9, 7:30 pm | Coral Gables | Church of the Little Flower
Sat Dec 10, 7:00 pm | Miami Beach | All Souls Episcopal 
Sun Dec 11, 7:00 pm | Ft. Lauderdale | All Saints Episcopal 
Tue Dec 13, 7:00 pm | Boca Raton | St. Gregory's Episcopal
Wed Dec 14, 7:30 pm | Miami | St. Sophia Greek Orthodox
Thur Dec 15, 7:00 pm | Pompano Beach Cultural Center* 
Fri Dec 16, 8:00 pm | Coral Gables | Church of the Little Flower 
Sun Dec 18, 4:00 pm | The Moss Center (formerly South Miami-Dade Cultural Arts Center*)
*Tickets sold separately through the venue.
Associate Conductor James K. Bass and the Seraphic Fire ensemble are pleased to present A Seraphic Fire Christmas in the 20th season of the ensemble. Asked about the repertoire and what the audience might look forward to, Bass provided an insider's peek into the program, which is being recorded for a future album release:
"In addition to the beautiful live experiences that we offer, we wanted to record this year's Christmas program to share our music beyond the boundaries of South Florida. Some of these Christmas melodies and pieces were chosen because we have not recorded them, and some don't exist on any recording.
"I was looking for a concert Christmas opener that immediately grabs the audience, and I Saw Three Ships by Fissinger does just that: you get the melody and harmony sung first by the sopranos and altos and then you get the melody sung by the tenors and basses and so it plays two halves of the choir in a way that's like a tennis match. It's a unique American arrangement and so that's one of the special ones, definitely. 
"Conversely, the Seraphic Fire voices perform a lullaby, My Sweet Little Baby by William Byrd, a composer that lived during the time of Queen Elizabeth I. This is a very, very beautiful setting of what William Byrd thought it might sound like if Mary was singing to the baby Jesus.
"And then two amazing carols from the African American spiritual tradition by the exceptional arranger, composer, creator William Dawson: Ain'a That Good News and Mary Had a Baby; both are staples within the African American spiritual community. 
"These three examples show just how skilled our Seraphic Fire artists are; moving between difficult music and diverse genre yet also exuding the wide range of emotions that this music requires and ultimately drawing our audiences in to share those feelings with them. A Seraphic Fire Christmas is an intimate experience meant to excite your senses but calm your soul."
About James K. Bass, Associate Conductor
James K. Bass, three-time GRAMMY®-nominated singer and conductor, is Professor and Director of Choral Studies at the Herb Alpert School of Music at UCLA. He is the Associate Conductor for the Miami-based ensemble Seraphic Fire and is the Artistic Director of the Long Beach Camerata Singers.
His professional career has coincided with the development of Seraphic Fire as one of the premier vocal ensembles in the United States. He has been actively involved as a soloist, ensemble artist, editor, producer, and preparer for 14 of the ensemble's recordings and routinely conducts the ensemble in Miami and on tour. During the summer of 2011, he co-founded the Professional Choral Institute. In its inaugural year of recording, Seraphic Fire and PCI received the GRAMMY® nomination for Best Choral Performance for their recording of Johannes Brahms' Ein Deutsches Requiem. He has been involved with annual educational events that serve more than 2,000 students in the Miami-Dade County area each year and is the Program Director for Seraphic Fire's Professional Choral Insitute at Aspen Music Festival and School. In 2017, Seraphic Fire and UCLA launched a new educational initiative entitled the Ensemble Artist Program that aims to identify and train the next generation of high-level ensemble singers.