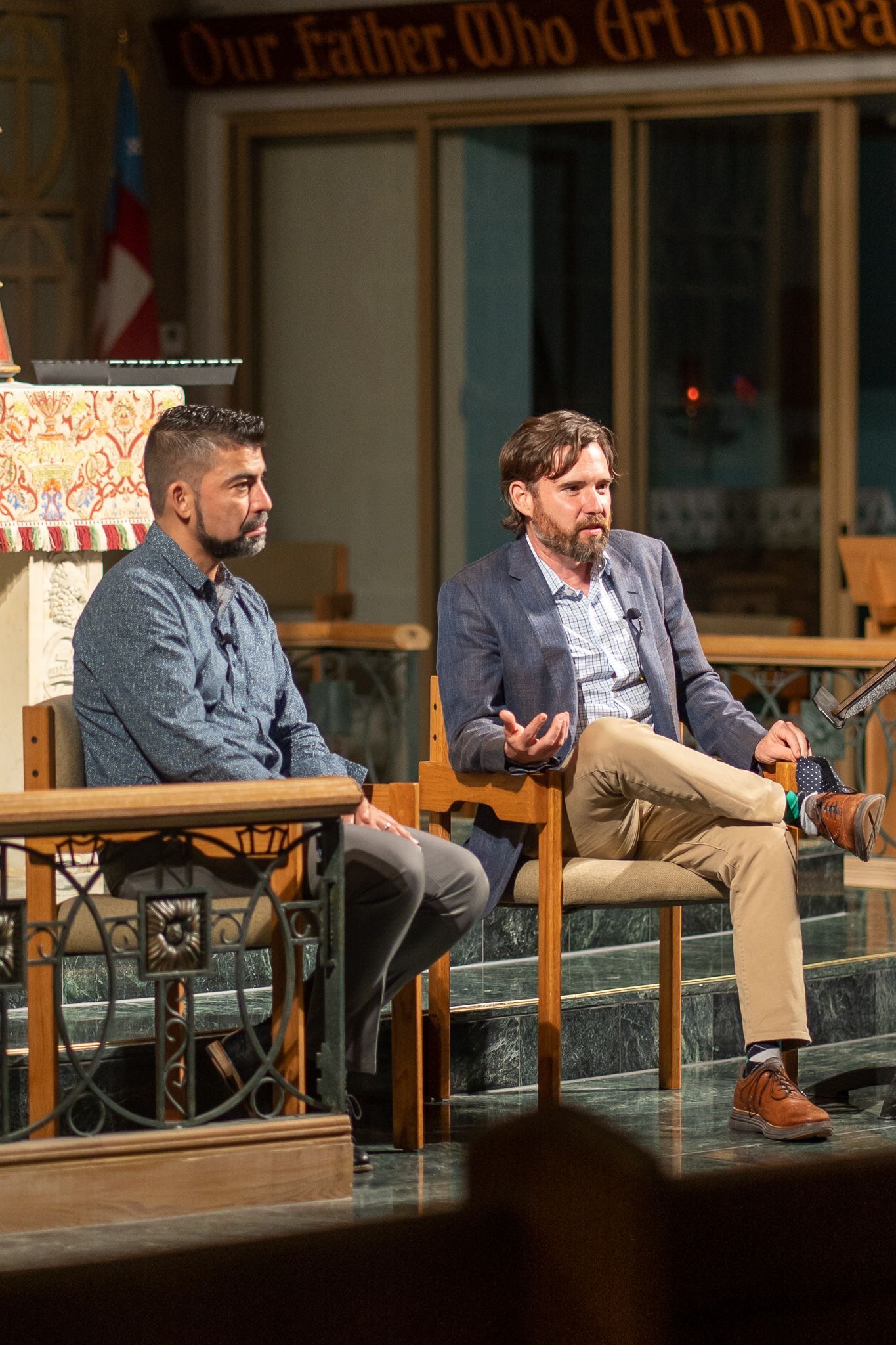 This article first appeared in Seraphic Fire Magazine Vol. 2, Iss. 2. Danzas del Silencio was virtually premiered in September 2021. 
by Beth Braswell
Those of you who are long-time Seraphic Fire lovers will recognize the name Alvaro Bermudez. Not only has Al produced numerous commissioned works for our company over the years, but he and his wife, Misty, were instrumental in the creation of Seraphic Fire back in 2002. Living in South Florida, they saw a void in the opportunities for music lovers to see and hear professional performances of Renaissance and Baroque music. Al, who sings bass, his mezzo-soprano wife, and their conductor and friend Patrick Quigley devised a solution; recruiting a high-level group of singers from which Seraphic Fire was born.
Fast forward almost two decades later to 2019. The John S. and James L. Knight Foundation New Work Award provides a unique opportunity for the commission of a new work and yet another partnership between Alvaro Bermudez and Seraphic Fire. Al is a true Renaissance man—a great teacher, phenomenal guitar player, and an excellent composer who has a keen relationship with text. This new composition entwines personal and emotional intricacies with Colombian folk flavors using native prose and the creation of harmonic text pictures. The following interviews with Al Bermudez and Patrick Quigley give a greater insight into the development of the award-winning Danzas del Silencio.
Q: What was the theme presented to the Knight Foundation and the inspiration behind the composition? 
PDQ: I asked Al to reach as deep as possible into his experiences both personally and artistically and write music that represents both him and his Colombian/American culture. He does not just compose music randomly; his pieces are written for the personalities in his life. The death of his father was an emotional turning point, and Al has infused that raw emotion into a very touching composition.
AB: Patrick had asked me to capture the roots-y feeling of the folk music from my father's homeland. I wanted to write the music to sound like it was created by a Colombian composer somewhere between 1930 to 1950, which represents a key time in my dad's life. He was born in a small Colombian town on a street called Silence Alley, hence the name of my composition: Danzas del Silencio. This music reflects mourning about the loving father that I lost. The listener will clearly hear loss, longing, and love in the various melodies.
---

Watch an excerpt of Danzas del Silencio in this video created by the Knight Foundation.
---
Q: Once the theme was approved by Knight Foundation, how did you move forward with creating the music?
AB: I like to write my music based on text. I don't make words succumb to music. There are images within texts and that helps me see what to write. It's like an actor delivering a monologue. Although I wanted the music to emulate that of the 1940s, I was not interested in using the stilted poems from that era because they sounded like they originated in Spain. I was lucky that one of my music students with a South American heritage had a great uncle who was a published poet. I was honored to have been gifted a portfolio of his prose and found three works that really suited my purposes for this commission.
Q: Describe what we can expect to hear during the performance of Danzas del Silencio.
AB: Just like Bach would write a suite—several pieces, all with new melodic material—I have three different 'dances,' totaling about 11 minutes. The first movement is medium tempo, and the second is very slow. My music is very natural; I don't mentally challenge the listener by grating on their ear. I want people to fixate on the melodies. The combination of the guitar and voice creates an undeniably rich texture, and the voice can shine more being accompanied by the guitar. The gut-string guitar is intimate, rustic, and really one more component of the tapestry of voices; it's not just playing along.
PDQ: Seraphic Fire's performance will feature Al on the guitar plus the chorus. Al has a remarkable ability to play classical guitar and also is a talented jazz composer. He has written beautiful music for us over the years; pieces that are harmonically adventurous and that contribute to the flavor and taste level of the ensemble. Al won the award for this new work for 2019, and it was supposed to be performed earlier this spring, but the coronavirus interfered with that plan. Our goal is now to pursue the release of this new work in the late spring of 2021.
---
Watch FROM CONCEPT TO CONCERT, an interview with Alvaro Bermudez, Patrick Dupre Quigley, and Seraphic Fire artists.
---
Q: Now that the debut of this composition is later than expected due to COVID-19, do you foresee any significant changes in the music you will present?
AB: I am making some rewrites to incorporate the present mood and the environment we all live in. Plus, I am not the same person who wrote this 18 months ago so the music needs to evolve. There are already some pretty melancholy sections in the original. Currently, the last movement addresses the chance we all experience in this world and our 'lightness' in the wind—the will of fate. The ending is currently more of a bustle, a commentary on how fickle life can be. I believe it is an exciting piece of music that is timely already, but now feel that it's important for me to add a slightly bigger bang.
Q: How has Knight Foundation impacted Seraphic Fire?
PDQ:  The John S. and James L. Knight Foundation has given numerous grants to foster increased artistic creativity in the Miami area. They have been incredibly generous to Seraphic Fire over the years including the seed money for our education program and the commissioning of numerous new works for us. We would not be the organization we are today without their early and continuing support. They are dear and stalwart patrons, and our listeners are the ultimate beneficiaries.
The concert premiere of Danzas del Silencio, a new commission from Alvaro Bermudez, is featured on the final concert of our 20th Anniversary Season, First | Last, April 27-30, 2023. Tickets are available online or by calling 305-285-9060.